RHYTHM


& VIBES

Soul-freeing experiences designed to expand Your time at patina.

Life vibrates with a rhythm and we tune our surroundings to fall perfectly in sync. At Patina Maldives, we harness the power of nature, wellness, creativity, and exploration to lay bare an unimaginable euphoria during your stay, offering you more than just a luxury water villa in Maldives. From harmonising with Fari Island's marine sphere to challenging your endurance against pulsating beats, our collection of Rhythm & Vibes is designed to complement the energy you radiate.
Experiences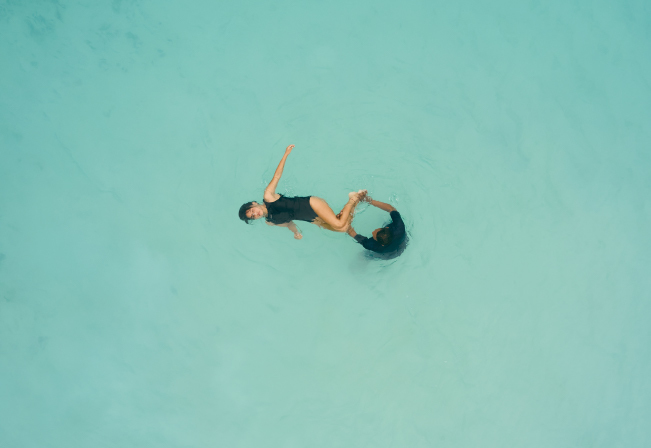 FOOTPRINTS
OCEAN
STIMULATE
SUSTENANCE
WELLBEING
Our haven of curiosity where children are invited to collaborate and discover endless possibilities through the freedom of play. A world of activity planned for budding young mind, aspiring engineers can design race cars in Fab Lab while teamwork is encouraged through heart-pumping sports and games.
We honour the life-giving force that is our ocean and host programmes surrounding ocean conversancy and enrichment. Leave a positive impact at Fari Islands by seeding coral reefs or adopting an injured sea turtle. Connect with the captivating diversity of underwater species with a night snorkel, responsibly observe the wild dolphins of Maldives, or learn how to scuba dive with Dive Butler.
Embark on an intellectual revival with our series of stimulating engagements. Gather together with like-minded Individuals to harness collective creativity or enjoy the singular solitude of painting. Enter a state of trance to a transformative silent festival, or simply participate in a captivating discourse with our visiting Perpetuals.
Unearthing thousands of years of food agriculture and philosophies, we explore the effects of nature's superfoods to naturally hack your body's immune system through food. Delve into the science behind kombucha or learn how to pair organic wines with ingredients harvested from our permaculture-led garden.
Fast or slow, high-energy workouts or moments of stillness - movement at Patina is mapped out to employ total body awareness. Supercharge the holistic fulfilment of your physical and mental health through paddleboard meditation, music-driven spin classes and tennis clinics by world champions.
Book Your Stay
Keepers of


Your journey

our essentialists accompany you as you flow Between encounters of sanctuary, stimulation And captivating experiences.

Reach out to an Essentialist for more information on Rhythm & Vibes.